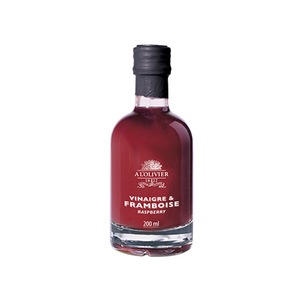 A L'Olivier
Framboise (Raspberry) Fruit Vinegar
Regular price
£11.25
£0.00
Unit price
per
These fruit pulp vinegars have endless uses; with a good balance of sweetness and acidity, they are bursting with fresh flavour. The texture is fairly viscous, which means that they work well reduced down after deglazing a pan, in a salad dressing, or even over ice-cream.  
The Raspberry Vinegar is intensely fruity, with a pleasingly tangy acidity. This vinegar can stand up to more intense flavours such as smoked duck, but is also very good with milder meats like veal escallops - drip a small amount into the pan towards the end of cooking for an amazing sauce. 
Winner of 2 stars in 2020 Great Taste Awards
Ingredients: White vinegar 8' 43%, raspberry puree 40% (raspberry 36%, sugar 4%, granulated sugar, thickener: apple pectin.
Shake well before use. Once opened, store in a refrigerator. 
Nutritional values 100 ml - Energy: 498 kJ / 119 kcal - Fat: 0 g - of which saturates: 0 g - Carbohydrate: 29 g - of which sugars: 27 g - Fibre: 0 g - Protein: 0 g - Salt: 0.03 g.
---